Posts for tag: veneers
By Convery Dental Associates
January 28, 2015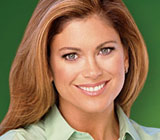 It is not often that you find a celebrity who is willing to speak candidly about any cosmetic or restorative dentistry that he or she has had. Instead, most prefer that their fans just assume that their dazzling "Hollywood" smile is something that just happened naturally. However, that is not the case with Kathy Ireland, the former Sports Illustrated cover girl, current business mogul and founder of kathy ireland Worldwide, a billion dollar marketing and design firm. In a Dear Doctor magazine cover story she talks openly about her dental experiences, injuries and treatment so that people worldwide can understand what may be possible for them.
For Kathy, it happened several years ago when she was playing with her husband and children in their driveway. Kathy decided that she would stand in her children's wagon and surf across their driveway. Instead, she ended up "face-planting," as she describes it, in a freak accident that left her with a broken nose, split forehead and several broken teeth. She recalls that it sounded like a watermelon had smashed. Luckily, her husband, an emergency room physician, was on hand to care for her. Kathy is just as thankful to her cosmetic and restorative dentist who restored her trademark smile with some veneers and a dental implant. Today, the only reminder she has from this accident is a small scar on her nose that she covers with a little makeup.
You would think that this accident would be enough trauma for one person; however, Kathy describes an earlier accident where she knocked out a tooth and then later knocked it loose again. Kathy also wanted to take the time to let readers know that her dental implant experiences were "pretty easy." She did recall, "hearing all the sounds while all of it was going on" and then added, "but I have to tell you, that after being a mom and having kids, going to the dentist...is like going to the spa!" She said that she has even fallen asleep in the dental chair.
To learn more about Kathy Ireland, continue reading the Dear Doctor magazine article "Kathy Ireland." Or if you think cosmetic or restorative dentistry is right for you, contact us today to schedule an appointment to discuss your specific goals.
By Convery Dental Associates
February 27, 2013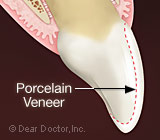 You may have heard the term "veneer" with reference to woodworking, where it means a thin layer of attractive wood that covers and enhances the surface of a piece of furniture. Exactly the same principle applies to porcelain veneers used in dentistry: A thin layer of ceramic material is used to cover parts of a tooth in order to improve its structure and appearance.
Porcelain is a non-metallic ceramic material that is fired in an oven at a high temperature to make it hard and durable. Dental porcelain veneers are thin layers of ceramic that can be applied to the outside of the tooth so that the end result mimics the natural color and translucency of tooth enamel. The underlying tooth structure has to be prepared by removing a small amount of the enamel, about 1 mm, which the veneer replaces. The veneer is then bonded to the prepared surface using a light-sensitive resin.
In woodworking, a veneer may be used to match the grain between the left and right sides of a piece of furniture, creating a beautiful effect on a curve, or simply to bring the appearance of expensive wood to a backing that is less expensive.
Just as a wood veneer improves the appearance of a dresser or table, porcelain laminate veneers may be used to improve teeth that have a number of cosmetic and functional problems. These include staining that cannot be removed by tooth whitening, teeth that are too small, misshapen, chipped or spaced too far apart. After an assessment of your teeth and your smile, we can create a mock-up using temporary tooth-colored materials so you can decide whether the suggested changes will work for you, or you can make suggestions for further improvements.
Porcelain laminate veneers may not be the best solution for you if your teeth are severely stained or damaged. In cases where a large proportion of the original tooth must be replaced, porcelain crowns may be the best solution. The crown is the part of the tooth that is visible above the gum line, and it can be covered with a porcelain crown that looks exactly like a tooth in shape and color. After studying your needs, together we can decide on the most satisfactory method to restore your most attractive smile.
Contact us today to schedule an appointment to discuss your questions about porcelain veneers. You can also learn more by reading the Dear Doctor magazine article "Porcelain Crowns and Veneers."