Posts for tag: teething
By Convery Dental Associates
December 29, 2014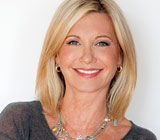 Singer Olivia Newton-John's daughter Chloe is now a lovely, grown woman, but Olivia recently recounted to Dear Doctor magazine a rather creative method she found to sooth Chloe's teething troubles many years ago.
"When Chloe was a baby and teething I remember using a frozen bagel for her sore gums," Olivia said. "She loved it!"
Cold is often very soothing to a teething child's gums. In fact, the American Academy of Pediatric Dentistry (AAPD) recommends using a clean, chilled, rubber teething ring, or cold wet washcloth. Chilled pacifiers can also be helpful. Be sure not to freeze teething rings or pacifiers as ice can actually burn sensitive mouth tissues.
Older teethers can sometimes find relieve from cold foods such as popsicles (or bagels!) but make sure your child eats these sugar-containing foods only at mealtimes so as not to promote tooth decay.
If your baby has not yet begun the teething (or tooth-eruption) process, you can expect it to begin usually between six and nine months. It may, however, start as early as three months or as late as twelve months.
Teething symptoms vary among children, as does the length of time it takes for a tooth to make its appearance. But many parents notice the following signs:
Irritability
Biting and gnawing
Gum swelling
Chin (facial) rash
Disrupted sleeping patterns
Ear rubbing
Drooling
Decreased appetite
These symptoms are usually most bothersome during the week that the tooth is breaking (erupting) through the gums, starting about four days before and lasting about three days after the tooth appears.
Occasionally, teething discomfort can be considerable. If that is the case with your baby, you can give her or him acetaminophen or ibuprofen in the appropriate dose (check with your pharmacist if you're not sure what that is). The medicine should be swallowed — not massaged into the gums, as this can also burn. Numbing agents should not be used for children under 2, except under the advice and supervision of a healthcare professional.
If you would like to learn more about teething or any other child-related oral health issue, please contact us or schedule an appointment for a consultation. If you would like to read Dear Doctor's entire interview with Olivia Newton-John, please see "Olivia Newton-John." Dear Doctor also has more on "Teething Troubles."
By Convery Dental Associates
January 08, 2014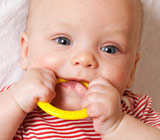 When your baby's first teeth erupt in the mouth, it's a big step in their development. Unfortunately, you may not have much opportunity to celebrate — you're too busy tending to your infant whose experience is anything but pleasant.
Commonly known as teething, the eruption process usually begins between six and nine months of age, although some children may begin as early as three months or as late as twelve. Not all teeth come in at the same time: it usually begins with the two lower front teeth, then the two upper front teeth, followed by the molars and then the canines (eye teeth). By age three, most children have all twenty of their primary teeth.
Each child's teething experience is different and may vary in length of time and intensity. The usual signs are heightened irritability, biting and gnawing accompanied by gum swelling, ear rubbing, drooling and sometimes facial rashes. Babies also may have disturbed sleeping patterns and a decreased appetite. Occasionally, this discomfort can be intense.
There are some things you can do to ease this discomfort. Provide your baby a clean, chilled (not frozen) rubber teething ring, chilled pacifier or wet washcloth to gnaw on. Cold foods, like popsicles for older children can also be soothing, though you should limit sugary foods to lower the risk of tooth decay. You can also finger massage swollen gums to counteract the pressure coming from the erupting tooth, or administer pain relievers like baby acetaminophen or ibuprofen. You can use products with Benzocaine®, a numbing agent, for children two years or older — but you should never use alcohol for children of any age for inflamed gums.
Be sure to also set up a Year One dental examination around their first birthday. This is an important first step in your child's long-term dental care, and a good opportunity to check their teething progress. And, by all means, if you have concerns about your child's experience with teething, don't hesitate to call our office.
Teething is a normal part of your child's development. There's much you can do to help make it as comfortable and pain-free as possible.
If you would like more information on teething, please contact us or schedule an appointment for a consultation. You can also learn more about this topic by reading the Dear Doctor magazine article "Teething Troubles."