Posts for tag: mouthguards
By Convery Dental Associates
December 07, 2016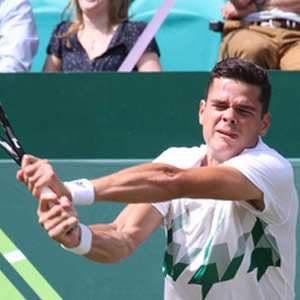 When you're among the top players in your field, you need every advantage to help you stay competitive: Not just the best equipment, but anything else that relieves pain and stress, and allows you to play better. For top-seeded Canadian tennis player Milos Raonic, that extra help came in a somewhat unexpected form: a custom made mouthguard that he wears on the court and off. "[It helps] to not grind my teeth while I play," said the 25-year-old up-and-coming ace. "It just causes stress and headaches sometimes."
Mouthguards are often worn by athletes engaged in sports that carry the risk of dental injury — such as basketball, football, hockey, and some two dozen others; wearing one is a great way to keep your teeth from being seriously injured. But Raonic's mouthguard isn't primarily for safety; it's actually designed to help him solve the problem of teeth grinding, or bruxism. This habitual behavior causes him to unconsciously tense up his jaw, potentially leading to problems with muscles and teeth.
Bruxism is a common issue that's often caused or aggravated by stress. You don't have to be a world-class athlete to suffer from this condition: Everyday anxieties can have the same effect. The behavior is often worsened when you consume stimulating substances, such as alcohol, tobacco, caffeine, and other drugs.
While bruxism affects thousands of people, some don't even suspect they have it. That's because it may occur at any time — even while you're asleep! The powerful jaw muscles that clench and grind teeth together can wear down tooth enamel, and damage both natural teeth and dental work. They can even cause loose teeth! What's more, a clenching and grinding habit can result in pain, headaches and muscle soreness… which can really put you off your game.
There are several ways to relieve the problem of bruxism. Stress reduction is one approach that works in some cases. When it's not enough, a custom made occlusal guard (also called a night guard or mouthguard) provided by our office can make a big difference. "When I don't sleep with it for a night," Raonic said "I can feel my jaw muscles just tense up the next day. I don't sense myself grinding but I can sort of feel that difference the next day."
 An occlusal guard is made from an exact model of your own mouth. It helps to keep your teeth in better alignment and prevent them from coming into contact, so they can't damage each other. It also protects your jaw joints from being stressed by excessive force. Plus, it's secure and comfortable to wear. "I wear it all the time other than when I'm eating, so I got used to it pretty quickly," said Raonic.
Teeth grinding can be a big problem — whether you put on your game face on the court… or at home. If you would like more information about bruxism, contact us or schedule an appointment for a consultation. You can learn more in the Dear Doctor magazine articles "Stress & Tooth Habits" and "When Children Grind Their Teeth."
By Convery Dental Associates
March 18, 2014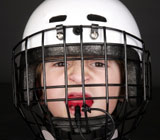 What is a mouthguard? A mouthguard or mouth protector is a protective appliance that covers the teeth and gums to prevent or reduce injury to the teeth, gums, jaws, and lips during sports or other activities prone to injuries.
Who should use a mouthguard? Children, adolescents or even adults who participate in contact or injury prone sports should use a mouthguard.
What do you mean by contact sports? Mouthguards are used most commonly in sports such as boxing, football, hockey and lacrosse. The American Dental Association recommends protection for 27 different sports, including basketball, soccer, water polo, rugby and more. The governing bodies of football, boxing, ice hockey, men's lacrosse and women's field hockey require mouth protection. It's a good idea to use a mouthguard during any activity that could result in a blow to the face or mouth.
What does the mouthguard protect against? A mouthguard protects against breaking or dislodging teeth or injuring jaws, gums, lips, or tongue, all injuries that can happen when you engage in contact or injury prone sports.
What are my choices for mouthguards? The best choice is a custom-made mouthguard fitted and made by a dentist. Stock mouthguards that are one size fits all can be bought off-the-shelf in stores, but there is no guarantee of fit or protection. A third type is a "boil and bite" guard, in which the guard material is heated and then shaped by biting down on the softened material. This offers some attempt at fitting that is better than off-the-shelf, but not as good as a mouthguard that is designed specifically for you.
Why is it better to get a mouthguard from our office than to buy one at a store? Studies have shown that store-bought stock or boil-and-bite mouthguards do not offer the same protection as a custom-made mouthguard. In our office we will make a mold of your mouth and design your mouthguard to fit your individual characteristics. It will be comfortable and easy to clean and will not restrict your speech or breathing. It will be made of resilient and tear-resistant materials, properly adapted for maximum protection, comfort and injury protection.
Wearing a properly fitted and properly used mouthguard prevents injuries to teeth, jaws, gums, lips, or tongue when you or your child participates in contact sports. Make an appointment with us to discuss your custom fitted mouthguard. To learn more read the Dear Doctor magazine article "Mouthguards."