Posts for: June, 2018
By Convery Dental Associates
June 20, 2018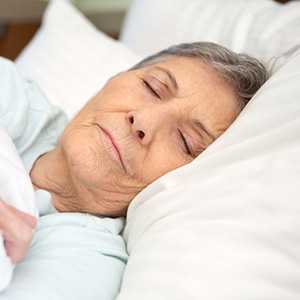 Perhaps you've heard the old saying: "Take care of your dentures and your dentures will take care of you." Well, maybe it's not that old—but it's still a sensible notion. Maintaining your dentures by routinely cleaning them and having them checked for fit will improve their longevity.
There's one other thing you should include on your maintenance routine—avoid wearing your dentures 24/7, especially while you sleep. This bad habit could lead to some unpleasant consequences.
For one, wearing dentures continuously can accelerate bone loss in the jaw that eventually causes your dentures to lose their comfortable fit. Bone loss is a natural consequence of tooth loss because the bone no longer receives the stimulation to grow transmitted by the teeth during chewing. Dentures can't transmit this stimulus; what's more, the pressure they place on the gums and underlying bony ridges could make bone loss worse. You can relieve this gum pressure at night by taking them out.
Dentures can also become a breeding ground for bacteria and fungi that cause disease, irritation and unpleasant mouth odors. Taking dentures out at night deprives these microorganisms of a prime opportunity to carry on business as usual—and it's also a great time to clean your dentures. People who sleep with their dentures in their mouth are more likely to have gum or oral yeast infections and higher levels of proteins produced by white cells that increase inflammation. That could contribute to other diseases throughout the body.
Besides taking your dentures out at night, you should also practice other daily hygiene tasks. Remove your dentures after eating and rinse them with clean water. Brush your dentures daily with a soft-bristled brush and dish or antibacterial soap or dental cleanser (no toothpaste—it's too abrasive for denture surfaces). Be sure you clean your gums and tongue every day too. When your dentures are out, store them in clean water or preferably an alkaline peroxide-based solution.
Removing your dentures at night and these other good habits will help extend the life and fit of your dentures. It could also help keep the rest of you healthy.
If you would like more information on denture care, please contact us or schedule an appointment for a consultation. You can also learn more about this topic by reading the Dear Doctor magazine article "Sleeping in Dentures: A Habit that Can Cause Health Problems."
By Convery Dental Associates
June 10, 2018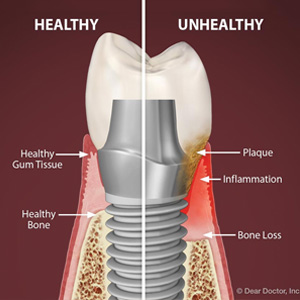 You've invested quite a bit in your new dental implants. And it truly is an investment: because of implants' potential longevity, their long-term costs could actually be lower than other restorations whose upfront costs might be less.
But to better ensure their longevity, you'll need to keep your implants and the natural tissues supporting them clean of bacterial plaque, a sticky biofilm that can cause periodontal (gum) disease. Although the implant itself is unaffected by disease, the natural tissues around it can be.  An infection could ultimately weaken the bone supporting the implant and lead to its failure.
Such an infection involving implants could advance rapidly because they don't have the natural defenses of the original teeth. Our natural teeth are connected to the jaw through the periodontal ligament, a collagen network that attaches to both the teeth and the bone through tiny tissue fibers. This connection also provides access to antibodies produced by the body to fight infection.
By contrast, we place implants directly into the jawbone. While this creates a very secure attachment, the implant won't have the same connection as teeth with the body's immune system. That means any infection that develops in surrounding tissues can spread much more rapidly—and so must be dealt with promptly.
Treating this particular form of gum disease (known as peri-implantitis) is similar to infections with natural teeth and gums, with one important difference involving the tools we use to remove plaque from them. While natural teeth can handle metal scalers and curettes, these can create microscopic scratches in the porcelain and metal surfaces of an implant and create havens for further bacterial growth. Instead, we use instruments made of plastic or resin that won't scratch, as well as ultrasonic equipment to vibrate plaque loose.
To avoid an infection, it's important that you brush your implants and surrounding tissues just like you would your natural teeth (be sure you use a soft-bristled brush). And keep up regular dental visits for thorough cleanings and checkups to stay ahead of any developing gum infection. Maintaining your dentures will help ensure they continue to brighten your smile for a long time.
If you would like more information on dental implants, please contact us or schedule an appointment for a consultation. You can also learn more about this topic by reading the Dear Doctor magazine article "Dental Implant Maintenance: Implant Teeth Must be Cleaned Differently."