Posts for: December, 2013
By Convery Dental Associates
December 24, 2013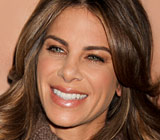 Jillian Michaels, personal trainer and star of television's The Biggest Loser isn't afraid of a tough situation — like a heart-pumping exercise routine that mixes kickboxing with a general cardio workout. But inside, she told an interviewer from Dear Doctor magazine, she's really a softie, with "a drive to be one of the good guys." In her hit TV shows, she tries to help overweight people get back to a healthy body mass. And in doing so, she comes face-to-face with the difficult issue of sleep apnea.
"When I encounter sleep apnea it is obviously weight related. It's incredibly common and affects millions of people," she says. Would it surprise you to know that it's a problem dentists encounter as well?
Sleep apnea is a type of sleep-related breathing disorder (SRBD) that's associated with being overweight, among other things. Chronic loud snoring is one symptom of this condition. A person with sleep apnea may wake 50 or more times per hour and have no memory of it. These awakenings last just long enough to allow an individual to breathe — but don't allow a deep and restful sleep. They may also lead to other serious problems, and even complications such as brain damage from lack of oxygen.
What's the dental connection? Sleep apnea can sometimes be effectively treated with an oral appliance that's available here at the dental office. The appliance, worn at night, repositions the jaw to reduce the possibility of the tongue obstructing the throat and closing the airway. If you are suffering from sleep apnea, an oral appliance may be recommended — it's a conservative treatment that's backed by substantial scientific evidence.
As Michaels says, "I tell people that [sleep apnea] is not a life sentence... It will get better with hard work and a clean diet." So listen to the trainer! If you would like more information about sleep-related breathing disorders, please contact us for a consultation. You can learn more in the Dear Doctor magazine article "Sleep Disorders and Dentistry."
By Convery Dental Associates
December 10, 2013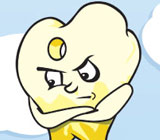 When do you think is the earliest age that tooth decay can start? Would you be surprised to learn that the answer is… just two months!
In spite of our best efforts, throughout the world tooth decay remains the most common chronic disease of childhood. And the unfortunate truth is, it's largely preventable. Tooth decay is caused by harmful bacteria living in the mouth. These bacteria produce acids as a byproduct of feeding on the sugar we consume. The acids attack the hard enamel surfaces of the teeth, eventually making the small holes we know as cavities.
For thousands of years, these bacteria have been thriving in the carbohydrate-rich environment of our mouths. Kids aren't born with these germs — often, however, they are passed directly from caregiver to child. But there are things you can do to keep from passing the bacteria to your children. For example, don't share toothbrushes; don't put items in baby's mouth after you have licked them or put them in yours; and, if you have untreated dental disease, try to avoid kissing the baby's lips. (And for goodness sake, don't pre-chew a baby's food, no matter what any celebrity may suggest.)
One effective way to control tooth decay is by reducing the amount of sugar in the diet. Sodas and candy aren't the only culprits — fruit juices are also high in sugar. And remember, it's not just what your child eats or drinks that matters, but when they consume it. Given time, saliva will neutralize and wash away the acids that bacteria produce. But if kids are constantly taking in sugar, the saliva can't keep up. So give those little teeth a break — limit sugar to mealtimes, and avoid sweet treats at other times of day.
What other steps can you take to stop tooth decay before it starts? It helps to identify kids who may be more susceptible to dental disease. Given the same diet with the same oral hygiene practices, some children are much more likely than others to develop tooth decay. If these high-risk kids receive preventive treatments — such as fluoride varnishes, help with diet modification, and other measures — early tooth decay can be successfully prevented, and even reversed in some cases.
If you're concerned that dental treatment may be too scary for little ones, you should know that we put a great deal of effort into making office visits as stress-free as possible. We have plenty of tricks to keep youngsters happy — and distracted — while we take care of business. You can help too… by maintaining a positive outlook and setting a good example.
If you would like more information about cavity prevention for children, please contact us or schedule an appointment. You can learn more in the Dear Doctor magazine article "Taking the Stress Out of Dentistry for Kids."