Posts for: August, 2013
By Convery Dental Associates
August 29, 2013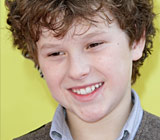 Nolan Gould, who plays Luke on the popular TV comedy Modern Family, has beautiful, straight teeth. But in an exclusive interview with Dear Doctor magazine, the young actor said it wasn't always that way.
"My teeth used to be pretty messed up," Nolan said. "I had two extra teeth when I was born. They hadn't come out (erupted) yet. And all the other teeth that were already there were starting to point backwards because it was getting so crowded in my mouth. At about the age of 7, I started going to the orthodontist to get my teeth checked."
Age 7 may sound early for a visit to the orthodontist, but in fact that's exactly the age we recommend for a first orthodontic evaluation. Malocclusions (bad bites) often become noticeable around this time, as the child's permanent (adult) teeth erupt. We might already be able to see evidence of the following problems: crowding, too much space between teeth, protruding teeth, extra or missing teeth, and sometimes problems with jaw growth. So even if your child is too young for braces, it is not necessarily too early for an orthodontic evaluation.
This type of exam can spot subtle problems with jaw growth and emerging teeth while some baby teeth are still present. Early detection of orthodontic problems makes it easier to correct those problems in the long run. Waiting until all of the permanent teeth are in, or until facial growth is nearly complete, may make correction more difficult or even impossible. That's why the American Association of Orthodontists recommends that all children get a check-up with an orthodontist no later than age 7.
Orthodontic treatment itself usually begins between ages 7 and 14. Therapy that begins while a child is still growing, often referred to as "interceptive orthodontics," helps produce optimal results. In Nolan's case, an early orthodontic evaluation allowed his orthodontist enough time to plan the most effective treatment. Nolan's two extra teeth were removed before they had a chance to push his other teeth even further out of alignment, and he was given orthodontic appliances which fit behind the teeth.
"You can remove them, which is really good for acting, especially because you can't see them. I can wear them 24/7 and nobody will ever notice."
One thing that is noticeable, however, is Nolan's perfectly aligned smile!
If you would like to learn more about improving tooth alignment with orthodontics, please contact us to schedule an appointment for a consultation. To read Dear Doctor's entire interview with Nolan Gould, please see "Nolan Gould." Dear Doctor also has more on an "Early Orthodontic Evaluation."
By Convery Dental Associates
August 14, 2013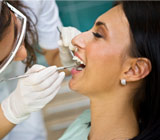 Perhaps you or someone you know has been told they will need root canal treatment. Maybe you're experiencing some unexplained tooth pain, and you think you might need to have this procedure done. Nervous? You shouldn't be! A good understanding of this common and relatively pain-free dental treatment can go a long way toward relieving your anxiety.
What's a root canal? It's the small, branching hollow space or canal, deep within the root of the tooth. Like an iceberg in the ocean, a tooth shows only part of its structure above the gum line: That's the part you see when you smile. But about two-thirds of the tooth — the part called the root — lies below the gum. A healthy root canal is filled with living pulp tissue, which contains tiny blood vessels, nerves and more.
A "root canal" is also shorthand for the endodontic treatment that's called for when problems develop with this tissue. For a variety of reasons — deep tooth decay or impact trauma, for example — the pulp tissue may become inflamed or infected. When this happens, the best solution is to remove the dead and dying tissue, disinfect the canals, and seal them up to prevent future infection.
How is this done? The start of the procedure is not unlike getting a filling. A local anesthetic is administered to numb the tooth and the nearby area. Then, a small opening is made through the chewing surface of the tooth, giving access to the pulp. A set of tiny instruments is used to remove the diseased tissue, and to re-shape and clean out the canals. Finally, the cleared canals are filled with a biocompatible material and sealed with strong adhesive cement.
After root canal treatment, it's important to get a final restoration or crown on the tooth. This will bring your tooth back to its full function, and protect it from further injury such as fracture. A tooth that has had a root canal followed by a proper restoration can last just as long as any other natural tooth. And that's a long time.
If you would like more information about root canals, please contact us to schedule an appointment for a consultation. You can also learn more about this topic by reading the Dear Doctor magazine articles "Common Concerns About Root Canal Treatment" and "Signs and Symptoms of a Future Root Canal."