Posts for: April, 2013
By Convery Dental Associates
April 20, 2013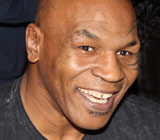 Mike Tyson's gap-toothed smile is part of athlete-turned-celebrity's signature look. During his two-decade career as a professional boxer, the former heavyweight champion has been known for both giving — and occasionally receiving — knockout punches. But the story of how he lost one set of front teeth is a bit more unusual.
In a recent interview with the Las Vegas Review Journal, Tyson's wife Kiki stated that one of the champ's major dental dilemmas didn't come from blows inside the ring. In fact, she said, Tyson lost the teeth after being head-butted by his pet tiger, Kenya.
It's too bad Tyson wasn't wearing a mouthguard before he decided to play with kitty.
Fight fans know that boxers always put in a mouthguard before they enter the ring. But the pugilistic pursuit is just one among the two-dozen-odd sports for which the American Dental Association recommends the use of custom mouthguards. Others include baseball, skateboarding, surfing and bicycling. (Maybe horsing around with tigers should be added to the list!)
Why is it so important for participants in athletic activities to use this piece of protective gear? According to the U.S. Centers for Disease Control, sports-related dental injuries account for over 600,000 emergency-room visits each year. Many of these injuries require further dental treatment; some may lead to tooth loss and require costly replacement. Not wearing a mouthguard makes an athlete 60 times more likely to sustain harm to the teeth, according to the American Dental Association. So there's really no contest.
You can find basic, off-the-shelf mouthguards in limited sizes at many sporting goods stores. But for a reasonable cost, we can provide you with a properly fitted dental appliance that's custom-made just for you. Starting with a precise model of your teeth, individual mouthguards are crafted from impact-resistant materials which are designed to be strong, comfortable, resilient — and effective.
Research shows that custom-made mouthguards offer superior quality and protection. So if you or your loved ones like to get out on the playing field, don't neglect this important piece of sporting equipment. And watch out for the cat.
If you have questions about mouthguards, please contact us or schedule an appointment for a consultation. You can learn more in the Dear Doctor magazine article "Athletic Mouthguards."
By Convery Dental Associates
April 04, 2013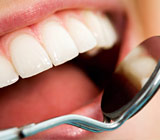 Being "in the pink" is a good thing; it means you're healthy. Being "in the red" is not so good; it means your health is questionable (financially, anyway). Though they weren't coined for dentistry per se, these colorful expressions are helpful reminders when it comes to taking care of your gums: Pink is their natural, healthy color; that's what you want to see every time you look in the mirror. Red is generally a warning that something's amiss.
If your gums, or "gingiva," appear slightly swollen and reddened at the margins and/or they bleed when lightly prodded by brushing or flossing, it's likely that you have gingivitis. This is an immune response to the buildup of bacterial plaque (biofilm) at your gum line. It is also an early red flag for periodontal disease (peri – around, odont – tooth), a degenerative process that affects not only the gums, but the periodontal ligament that attaches each tooth in its bony socket, and the underlying supporting bone.
Attentive home dental hygiene practices prevent most plaque buildup from occurring. Brushing correctly at the gum line is a good start. But even a deftly handled brush can't reach everywhere, so it's important to use dental floss or specially designed mini-brushes to get in between teeth and other hard-to-reach areas. Our office can instruct you on optimal home care techniques. We also encourage you to visit at regular intervals for professional cleanings so you are assured of addressing anything home care might miss.
In the absence of good oral hygiene, dental plaque can build and become increasingly difficult to remove as it calcifies, becoming tartar. It becomes a breeding ground for disease-causing microbes that normally wouldn't have the chance to gain a foothold. When caught early, gingivitis can be treated before any harm is done. Sometimes a thorough professional cleaning is sufficient. If the problem is ignored, however, the disease will most certainly progress to destruction of the surrounding, supporting tissues — the periodontal ligament and the underlying bone. If this happens, tooth loss could eventually result.
That said, there can be other causes for bleeding gums. These include:
Brushing too rigorously or using a toothbrush with bristles that are too firm
Side effect of a medication
In women, elevated hormone levels (e.g., birth control pills or pregnancy)
A systemic (bodily) disease
Whatever the reason, red is not normal when it comes to your gums. The sooner you discover the underlying reason(s) for inflammation or bleeding and take appropriate action, you and your smile will be back in the pink and you'll have no reason to be blue!
If you would like more information about preventing or treating bleeding gums, please contact us or schedule an appointment for a consultation. You can also learn more about this topic by reading the Dear Doctor magazine article "Bleeding Gums."