Posts for: January, 2013
By Convery Dental Associates
January 15, 2013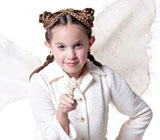 The Tooth Fairy has been easing the process of losing baby teeth for hundreds of years — at least 500 years according to one authority on the subject. Her name is Brady Reiter, and while she looks only age 11 in earth years, she is actually a 500-year-old Tooth Fairy; at least she plays one on DVD.
Brady is the star of Tooth Fairy 2, a new DVD comedy also starring Larry the Cable Guy as a novice Tooth Fairy doing penance for questioning the existence of the magical sprite who leaves payment under pillows for lost teeth.
In a charming interview with Dear Doctor magazine, Brady says it wasn't very difficult to play an ancient tooth fairy trapped in a child's body.
"I'm kind of more mature than an average 11-year-old because I have older brothers and sisters," Brady told Dear Doctor. "It was kind of just connecting with my inner 500-year-old. It was very fun to play a character like that!"
Brady also enjoyed working with Larry, who dons a pink tutu and fluffy wings for his role.
"In hair and makeup every morning, he'd be making all these jokes," she said. "He just cracked us up 100 percent of the time!"
But as much fun as Brady had on the set, her character, Nyx, is all business. And that's how Brady, who recently lost her last baby tooth, has always believed it should be.
"My whole life I thought the Tooth Fairy is just like Nyx," Brady said. "They know what to do, they come in, they're professionals, you don't see them and they never make a mistake and forget your tooth. Just like Santa Claus, tooth fairies are very professional."
Brady also told Dear Doctor that she is very excited to be helping the National Children's Oral Health Foundation fight childhood tooth decay as spokesfairy for America's ToothFairy Kids Club. The club offers kids personalized letters from the Tooth Fairy along with lots of encouraging oral health tips and fun activities.
If you would like to enroll your child in the club — it's free! — please visit www.AmericasToothFairyKids.org. And to make sure your child's teeth and your own are decay-free and as healthy as possible, please contact us to schedule your next appointment.
By Convery Dental Associates
January 05, 2013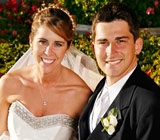 Invitations, dresses, the cake, the photographer: there's so much to think about when planning your wedding. And remember to plan for one more thing, your smile. Your wedding photographs will record the magic of your wedding day forever, so you'll want your smile to look radiant. Bonus: you'll be providing for a lifetime of good oral health.
Start planning as far ahead as possible. We can help you select from the variety of treatments, therapies and procedures that can enhance your smile on that special day. Together, we'll assess your starting point, decide what needs to be changed, and create a plan of action. Remember that the bigger the changes you want to make, the longer they are likely to take.
Plan the indicated amount of time before your wedding for the following:
Several months to three years: Orthodontics
From minor movement using clear aligners to full braces to correct a bad bite, this treatment allows us to accurately and precisely move teeth for better appearance and function. The process can seem like magic.
Six months to a year: Dental Implants
Implants are natural looking, functional stand-alone tooth replacement systems. They take planning and time. An implant consists of a root replacement that permanently joins to the bone and to which a crown is attached.
Two to four visits: Periodontal Plastic Surgery
Consult with us to find out your needs. Today, surgical techniques can alter your gum tissues and their relationship to the teeth, improving the appearance of your smile.
Multiple visits over one to four months: Crowns and Bridges
A crown or "cap" is generally required when a tooth has been ravaged by decay or trauma. A crown can also be used to improve tooth color and shape. Missing teeth can be replaced by bridges, which span the space created by a missing tooth. Bridges do require crowns on the adjacent teeth to which the bridge is attached.
At least three months: Veneers
Porcelain veneers are bonded directly to the enamel to change the shape and color of darkened or unsightly teeth. Usually, a small amount of enamel must be removed to make room for the veneers and for them to work their magic.
At least two months ahead of your wedding day: Bonding
You can replace anything from small chips on your front teeth to broken discolored old fillings with the latest tooth-colored bonding composite resin materials. These procedures, generally done in one visit, provide life-like restorations that become part of the teeth and look very natural.
Allow for one or two office appointments: Whitening
A professional "in office" tooth bleaching procedure is quicker and more predictable than an "at-home" kit, which may brighten your smile by several shades, but requires months.
Schedule well ahead of your wedding date: Dental Cleanings
Remove unwanted stains and freshen your breath, so you look and feel your best on the big day. You may need more than one cleaning, depending on how much stain and tartar there is and how long it has been since your last cleaning.
We can make sure that your wedding day smile makes you look and feel great, not just for those treasured photos, but for years to come. For many of these procedures, results can last a lifetime. Contact us today to schedule an appointment to prepare for your best wedding smile. For more information read the Dear Doctor magazine article "Wedding Day Smiles."