Posts for: December, 2012
By Convery Dental Associates
December 29, 2012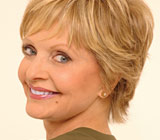 Life lessons are learned in the most surprising places. This is no different for celebrities. Take, for example, Florence Henderson, an actress, singer, philanthropist, author and star of the hit television series, The Brady Bunch. As she told Dear Doctor magazine, her experience with having four impacted wisdom teeth removed — at the same time — "...only made me more aware of how important dental care is." She continued, "This is why I have always gone every six months for a check up."
Another important lesson we want to share is the fact that even if your impacted third molars (wisdom teeth) are not bothering you or causing any pain, you may still need to have them removed.
Why? Having a tooth submerged below the gum, pressing on the roots of other teeth is problematic; the tooth should be removed so that you can avoid major dental problems before they occur. For example, it is not uncommon for us to find an impacted third molar pressing against the roots of the adjacent second molar. Furthermore, because the enamel crown of this impacted tooth is trapped below the gum, we sometimes find an infection, gum disease or even cyst formation occurring.
Often, the best time to remove a wisdom tooth is when it is not causing any problems. This is because a painful wisdom tooth or pain in the area of the wisdom tooth may be a sign that significant damage has occurred or is occurring. It is also better to remove wisdom teeth when you are young, as young healthy people with no prior infections at the site provide the best opportunity for us to remove the tooth with no complications.
To learn more about impacted wisdom teeth, continue reading the Dear Doctor magazine article "Removing Wisdom Teeth." Or if you suspect or already know that you have an impacted wisdom tooth, contact us today to schedule an appointment so that we can conduct a thorough examination that includes x-rays. During this private consultation, we will also address any questions you have as well as your treatment options. And if you want to read the entire article on Florence Henderson, continue reading "Florence Henderson."
By Convery Dental Associates
December 11, 2012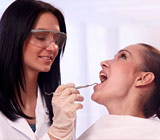 Gum or periodontal disease is a condition in which "biofilms" or dental bacterial plaque sticks to teeth around the gum line in the absence of good oral hygiene. If left untreated, it causes inflammation of the gums and surrounding tissues of the teeth that can result in "pocketing," gum recession and bone loss that eventually leads to loose teeth, followed by no teeth! And for about 10 to 15% of those having gingivitis or stage 1 periodontal disease, it can get worse by progressing into chronic periodontal disease. However, the good news is that a conservative and simple treatment called root planing combined with good daily oral hygiene may return your gum tissues to health, and even eliminate the need for gum surgery.
Most of the time, root planing is performed with local anesthesia (numbing shots) in the areas requiring treatment. Anesthesia is an important part because you should always feel relaxed and comfortable during treatment. Because inflamed gum tissues may be quite sensitive, these numbing shots enable us to accomplish our goals and thoroughly remove the problematic material from your teeth's roots.
Root planing or deep cleaning is a routine dental procedure usually done in conjunction with scaling, the removal of the more superficial deposits on the tooth surfaces. Root planing involves physically planing (scraping) the root surfaces of the teeth to remove calculus, bacteria and toxins that are ingrained into their surfaces so that the attached gum tissues can heal. It is carried out with manual hand instruments, ultrasonic electronic instruments or a combination of both for your comfort and best results.
You can learn more about this procedure by reading, "Root Planing." Or if you want to schedule an appointment to discuss your questions, contact us today.