Posts for: November, 2012
By Convery Dental Associates
November 26, 2012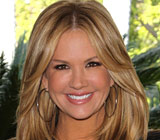 When it comes to sensitive gums during pregnancy, Nancy O'Dell, the former co-anchor of Access Hollywood and new co-anchor of Entertainment Tonight, can speak from her own experience. In an interview with Dear Doctor magazine, she described the gum sensitivity she developed when pregnant with her daughter, Ashby. She said her dentist diagnosed her with pregnancy gingivitis, a condition that occurs during pregnancy and is the result of hormonal changes that increases blood flow to the gums. And based on her own experiences, Nancy shares this advice with mothers-to-be: use a softer bristled toothbrush, a gentle flossing and brushing technique and mild salt water rinses.
Before we continue we must share one important fact: our goal here is not to scare mothers-to-be, but rather to educate them on some of the common, real-world conditions that can occur during pregnancy. This is why we urge all mothers-to-be to contact us to schedule an appointment for a thorough examination as soon as they know they are pregnant to determine if any special dental care is necessary.
Periodontal (gum) disease can impact anyone; however, during pregnancy the tiny blood vessels of the gum tissues can become dilated (widened) in response to the elevated hormone levels of which progesterone is one example. This, in turn, causes the gum tissues to become more susceptible to the effects of plaque bacteria and their toxins. The warning signs of periodontal disease and pregnancy gingivitis include: swelling, redness, bleeding and sensitivity of the gum tissues. It is quite common during the second to eighth months of pregnancy.
Early gum disease, if left untreated, can progress to destructive periodontitis, which causes inflammation and infection of the supporting structures of the teeth. This can result in the eventual loss of teeth — again, if left untreated. Furthermore, there have been a variety of studies that show a positive link between preterm delivery and the presence of gum disease. There has also been a link between an increased rate of pre-eclampsia (high blood pressure during pregnancy) and periodontal disease. Researchers feel this suggests that periodontal disease may cause stress to the blood vessels of the mother, placenta and fetus.
To learn more about this topic, continue reading the Dear Doctor magazine article "Pregnancy and Oral Health." And if you want to read the entire feature article on Nancy O'Dell, continue reading "Nancy O'Dell."
By Convery Dental Associates
November 08, 2012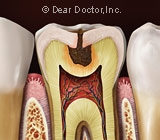 Did you know that the bacteria that cause tooth decay are usually transmitted to children from their parents, through sharing the same spoon or kissing? Once inside the child's mouth, the bacteria live on the teeth in what is called a biofilm. When the child consumes sugary foods or drinks, the bacteria act upon the sugar to produce acids that eat away at the child's teeth, producing tooth decay.
These bacteria thrive on carbohydrates such as bread, sweets, and sodas. Even fruit juices, which offer more vitamins than soda, are filled with sugars that lead to decay. The child's saliva works hard to neutralize the acidity produced from these foods, but if the child often snacks between meals this neutralization process doesn't have a chance to occur.
The first sign of decay may be white spots on the teeth, an indication that minerals in the surface enamel have been dissolved in certain locations. Before it goes any farther, this process can be reversed by reducing the exposure to acids and using fluorides to strengthen the tooth surface.
Make sure your child sees a dentist by his first birthday, to provide preventive care and treat any beginning decay.
You can also help your child develop the habit of brushing his teeth with fluoridated toothpaste. It is important to use only a smear of toothpaste on the brush for very young children, and a pea-sized amount on the brush for children over the age of 2. Sometimes small children swallow their toothpaste, and excessive amounts of fluoride can cause staining on the teeth. When your children are very young, you must brush their teeth. As they get older, they can do it themselves, with your supervision. We can also apply fluoride varnish to strengthen the tooth surface and make it resistant to acids.
Brushing twice a day is a good start. But it can't prevent tooth decay when a child is eating carbohydrates all day. One way to reduce the use of sugar is to use xylitol, a naturally occurring sweetener that looks and tastes like table sugar and improves oral health. Studies have shown that use of this sweetener reduces tooth decay in children.
Another good idea is to wean children from bottles and training cups as early as possible. Sometimes children are given bottles filled with milk or sugary beverages at bedtime to help them relax. A better idea for their teeth is to teach them to drink from a regular cup filled with milk — or preferably, with water.
Contact us today to schedule an appointment to discuss your questions about tooth decay in children. You can also learn more by reading the Dear Doctor magazine article "Managing Tooth Decay In Children With Chronic Diseases." While this article focuses on children with health challenges, it contains excellent advice to help all children prevent tooth decay.