Posts for: October, 2012
By Convery Dental Associates
October 26, 2012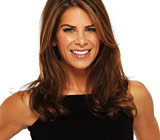 Anyone who has seen fitness and life coach Jillian Michaels on The Biggest Loser and Losing It with Jillian knows she has the expertise and determination to help overweight people reach new levels of fitness and health. Using her own difficult life experiences, Jillian is able to help others look below the surface to the roots of their own unhealthy lifestyles. As a child, she suffered from night terrors, then her parents divorced when she was 12. She reacted to her anger and unhappiness by comforting herself with food. By age 17 she weighed 175 pounds — too much weight for her small 5'2" frame. To get Jillian involved in physical activity, her mother signed her up for a martial arts class. It was the right choice. Jillian loved the physical and spiritual aspects of martial arts practice, and this training pointed the way to what ultimately became her career.
It's no wonder Jillian is concerned about America's obesity problem — especially in children. To counter it, she and a business partner put together a Wii game, "Jillian Michaels' Fitness Ultimatum." "If you turn exercise into a game, it's much easier to get kids to join in," she says.
For adults, Jillian is concerned with unhealthy body images put forward by the fashion industry and media. She says, "Educating women on the importance of a healthy diet and exercise program is essential, but getting them to realize that women are supposed to have curves is equally important." She is working on a new book, which is designed to help people live a healthy lifestyle, realize their true potential, and find happiness in just being themselves.
Since good health also includes good oral health, here's a sampling of what Jillian discussed about healthy habits in her interview with Dear Doctor magazine.
How can parents encourage their children to have healthy habits? Jillian says it starts with parents setting a good example. Parents can persuade children to get exercise by going outside to play with them. Gardening together and serving kids home-grown vegetables is a good way to encourage healthy eating.
What is her dental care routine? Jillian brushes her teeth two or three times a day with an electric toothbrush and she flosses daily. She never leaves home without toothpaste, an electric travel toothbrush, and floss as well as some sort of lip gloss. She sees her dentist, whom she calls "amazing," at least twice a year for cleanings.
How does she guard against damage from martial arts? Jillian broke her two front teeth as a child and had them repaired with crowns. Now she wears a mouthguard when doing vigorous exercise.
What other cosmetic dental procedures has she had? She also had braces and has had her teeth whitened.
Jillian knows that it takes hard work and commitment to health and exercise, along with good oral health habits, to look and feel your best. You can learn more about Jillian by reading the entire interview in the article "Jillian Michaels: The Biggest Loser's health and wellness expert talks about her oral health, keeping fit and plans for the future." Contact us today to discuss your questions about tooth whitening, crowns, or mouthguards or to schedule an appointment.
By Convery Dental Associates
October 11, 2012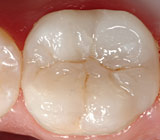 While the goal of restorative dentistry is to return all of the destroyed or lost dental tissues of the teeth to full form (shape) and function, when you blend this goal with the artistry of cosmetic dentistry, the results can be dazzling. Today's modern techniques and materials enable replacement of missing tooth structure that allows bonding directly to the tooth so that it not only is an exact color match but also actually strengthens the tooth. And tooth-colored fillings are not just for front teeth. They can dramatically improve the appearance of all teeth — even your back molars — so that it appears you've never had tooth decay at all!
All of this is accomplished through the use of either tooth-colored dental porcelain or composite resins. Porcelains are a form of ceramic material formed by the action of heat. They are available in many colors and shades made from a powder corresponding to the primary color of the natural tooth structure that is mixed with water and placed into an oven for firing (hence their ceramic nature). When built up in layers by highly trained dental ceramicists, they can be made to mimic the exact natural translucency, staining and contours of tooth enamel.
Dental composite resins are the most common materials used for tooth-colored adhesive restorations today and have properties similar to tooth structure. They consist of resin or special plastics and fillers that are made of silica, a form of glass. The fillers give the composites wear resistance and translucency (see through properties).
It is important to note that besides providing the appearance of beautiful teeth, properly restored teeth function and wear better. But most important to you, they appear indistinguishable from natural teeth! Furthermore, scientific studies and clinical experience have validated their use as both safe and predictable. In fact, these techniques are also suitable for children's teeth and can incorporate fluoride to reduce decay. Together, all of these changes have so significantly impacted the way modern dentistry is practiced that many believe we may have entered into the so-called "post-amalgam (silver metal-colored dental fillings) era."
Contact us today to schedule an appointment to discuss your questions about tooth-colored fillings. You can also learn more by reading the Dear Doctor magazine article "The Natural Beauty of Tooth Colored Fillings."