Posts for: September, 2012
By Convery Dental Associates
September 26, 2012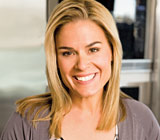 When asked about her dazzling white smile, Cat Cora, the first female iron chef on the hit television series Iron Chef America, freely admits to maintaining the brightness of her smile with professional whitening sessions.
"With what I do, whitening your teeth is like getting your hair done, your nails done and everything else you have to do to be on television," Cat recently told Dear Doctor magazine. However, she does have her limits. "I want my teeth to be white and healthy looking — but not stark white or looking like they could glow in the dark," she said with a laugh.
Cat's perceptions and experiences with tooth whitening may accurately describe Hollywood, but through the power of media, celebrities and their respective fan bases, having attractive white teeth has become a goal for most people. This is because white teeth are subconsciously associated with youth and virility.
Here in the dental office, we can use professional-strength "power bleaching" to whiten teeth several shades in a single visit. To prevent irritation to the area surrounding the teeth being treated, we isolate the gums and skin of the mouth with a protective gel or a rubber barrier known as a dental dam. After the whitening solution is placed on the teeth, the process may be supplemented by heat or a light source to activate or enhance peroxide release.
For bleaching teeth at home, our office can make custom-fitted bleaching trays that you fill with a gel form of carbamide peroxide. Sometimes this whitening gel can cause a temporary tooth sensitivity to hot and cold, but this normally lasts for no more than four days after you stop bleaching your teeth.
To learn more about tooth whitening, you can continue reading the Dear Doctor magazine article "Teeth Whitening." Or you can contact us today to schedule an appointment so that we can conduct a thorough examination and discuss what treatment options will be best for you. And to read the entire interview with Cat Cora, please see the article "Cat Cora."
By Convery Dental Associates
September 10, 2012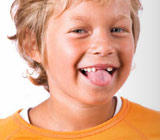 Many youngsters look forward to finding a surprise under their pillow after a visit from the "tooth fairy." This fable may comfort children who wonder why their first teeth come out. Parents need to know that losing baby teeth, also called primary or deciduous teeth, is completely normal, but at the right time and the right "space."
A child's first set of teeth must be lost to create room for the adult or permanent teeth that have been forming beneath them. The buds of the permanent teeth grow within a child's jawbone just under the baby teeth. The tops, or crowns, grow first, followed by the roots. Then as the roots develop, the permanent teeth push the baby teeth above them up through the gum tissues. As this happens, the roots of the baby teeth are resorbed, or melted away.
With their roots gone, eventually the baby teeth become so loose that they can be easily removed or fall out on their own, making room for the adult teeth to appear. Sometimes, when a baby tooth is so loose, it can be wiggled out. It leaves a little bleeding gum tissue that heals easily. This is also normal.
Besides making sure the tooth fairy comes, parents need to be sure that their children are evaluated to determine whether baby teeth are being lost in the right sequence so they will act as guides for the adult teeth. If teeth are lost prematurely because of decay or trauma, it is important that space is maintained for the adult teeth when they come in.
Contact us today to schedule an appointment or to discuss whether your child's baby teeth are being lost in the right sequence and the adult teeth are coming in correctly. To read more about losing baby teeth, see the article "Losing a Baby Tooth: Understanding an important process in your child's development."